As Rivian struggles to meet early demand, Illinois looks to become manufacturing hub in
61c2439fb9877.preview
Driven by legislators, automakers and growing consumer demand, electric vehicles are poised to rule the road over the next decade, and Illinois may be a key manufacturing hub in the auto industry's transformation.
Newly public EV startup Rivian is flush with cash and scrambling to keep up with orders for its electric truck, SUV and Amazon delivery vans at a former Mitsubishi plant in downstate Normal. Meanwhile, industry analysts expect Stellantis to convert its nearly dormant Belvidere Assembly Plant, which makes the Jeep Cherokee, into the automaker's first EV factory in the U.S. by 2024.
There's even an electric school bus factory being built in Joliet.
But with charging infrastructure lagging and new models just beginning to trickle out, there are still miles to go before EVs supplant gas-powered vehicles in many garages.
"We're not there yet," said Jessica Caldwell, executive director of insights for car shopping website Edmunds. "I think in the broader market we're still in early adopter phase. Until we see more production roll out, we'll probably still be at that phase for a while."
Rivian, which launched production of its R1T electric truck in September, raised $13.7 billion through a massive initial public offering last month and is now worth more than Ford or General Motors. Buying stock in Rivian may be easier than getting your hands on the actual trucks.
The California-based startup has produced only 652 vehicles in its first three months of operation, according to its third quarter earnings report Thursday. The first two R1S SUVs rolled off the line this month, and Rivian is expected to deliver the first of 100,000 EV vans to Amazon, an investor in the company, before the end of the year.
In total, Rivian is projected to come up a "few hundred vehicles short" of an initial 1,200-unit production target it set for 2021, CEO R.J. Scaringe said during the earnings call.
"Launching and ramping production of three different vehicles within a few months is an incredibly tough challenge," Scaringe said.
Rivian has 71,000 preorders for its R1T and R1S models, which means anyone who puts money down now on the $70,000 EVs will have to wait until 2023 to take delivery, Scaringe said. The company announced Thursday it is building a second $5 billion assembly plant in Georgia to keep up with anticipated future demand.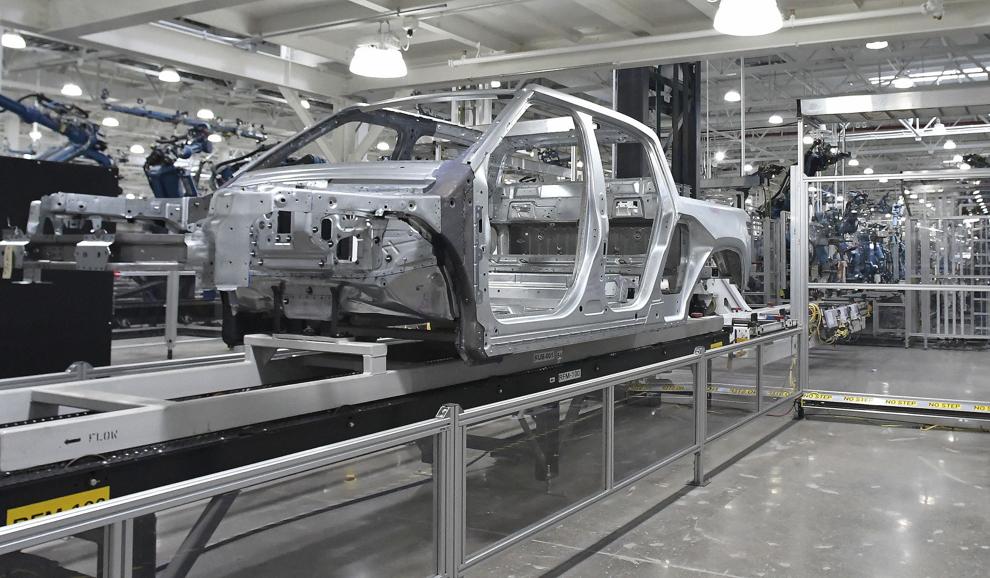 Electric vehicle sales gained traction in 2021, making up 2.5% of the U.S. auto market through November, up from 1.6% for the same period in 2020, according to Edmunds. Tesla accounted for nearly two-thirds of the EVs sold in the U.S., with Volkswagen at about 8%, followed by GM and Ford at about 7% each.
Edmunds projects the U.S. EV market share will climb to 4% in 2022, surpassing 600,000 vehicles sold, with Tesla's market share dropping to 46% as new players enter the segment.
New federal and state legislation is designed to accelerate the transition to electric vehicles.
The Biden administration released its EV charging action plan Dec. 13, outlining the steps federal agencies are taking to boost infrastructure, manufacturing and consumer adoption. The $1.2 trillion infrastructure bill, signed into law in November, includes $5 billion in funding for states and a $2.5 billion competitive grant program for rural and disadvantaged communities to put the U.S. "on the path" to a national network of 500,000 charging stations.
A measure for increasing the maximum federal tax credit for EV buyers from $7,500 up to $12,500 is part of Biden's $1.75 trillion Build Back Better Act, which was approved by the House in November and is now in the hands of the Senate.
In November, Gov. J.B. Pritzker signed the Reimagining Electric Vehicles in Illinois Act, which incentivizes EV manufacturers to locate in the state through tax credits, including up to 100% of income tax withheld for new jobs created. The legislation also allows local municipalities to abate property taxes for EV projects.
President Joe Biden has set an ambitious target of a 50% market share for EVs by 2030, while Pritzker wants to see 1 million registered EVs on Illinois roads by then — preferably built at Illinois plants.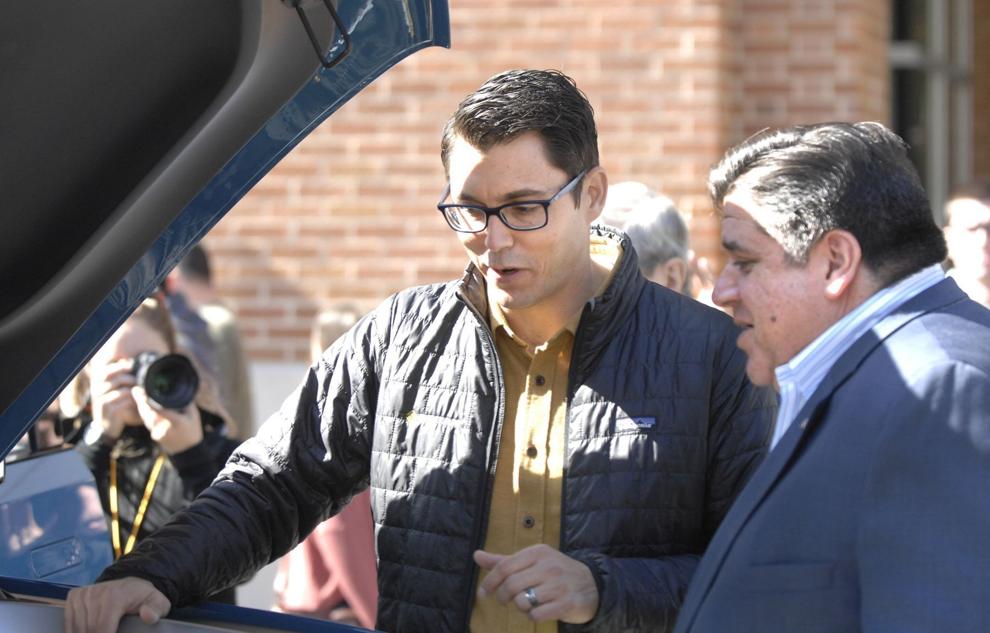 Founded in 2009 by Scaringe, a 38-year-old MIT grad, Rivian has nearly 3,900 employees working at its sole production facility in Normal. Rivian said Thursday it plans to expand the plant's capacity from 150,000 to 200,000 vehicles per year.
Rivian, which has more than 10,000 employees overall, plans to break ground on the Georgia plant next summer and begin producing the "next generation" of EVs by 2024. The plant will employ 7,500 workers with an eventual production capacity of 400,000 vehicles per year, Scaringe said. Until then, Rivian's ambitions to become the Tesla of trucks will depend entirely on the production output at the Normal plant.
Stellantis, which was created by the merger of Fiat Chrysler and Peugeot of France in January, is projecting more than 40% of its U.S. sales to be electric vehicles by 2030. Illinois could be at the center of those plans, with the Belvidere Assembly Plant near Rockford slated to build new electric versions of the Dodge Charger, Challenger and a crossover beginning in January 2024, according to industry analysts.
The sprawling plant, which has been laying off employees for several years amid dwindling sales for its only product — the Jeep Cherokee SUV — could be buzzing again with an all-electric future, said Sam Fiorani, vice president global vehicle forecasting at AutoForecast Solutions, a Pennsylvania-based research firm.
"The plant is a relatively large plant, and the Cherokee was supposed to fill it. But it is not anymore," Fiorani said. "Instead of having just one, they'll have at least three models built in Belvidere, so that will fill up capacity a little better."
Fiorani said Stellantis is expected to retool the Belvidere plant to launch its EV production, while moving production of the Cherokee to another plant outside of Illinois.
"While we won't comment on rumor or speculation about the future of any of our facilities, we can say that Stellantis is committed to bringing consumers an electrified future, investing $35 billion through 2025 on electrification and software," Stellantis spokeswoman Jodi Tinson said in an email.
Biden's infrastructure bill also includes $5 billion for zero- and low-emission buses, with the…


Read More: As Rivian struggles to meet early demand, Illinois looks to become manufacturing hub in