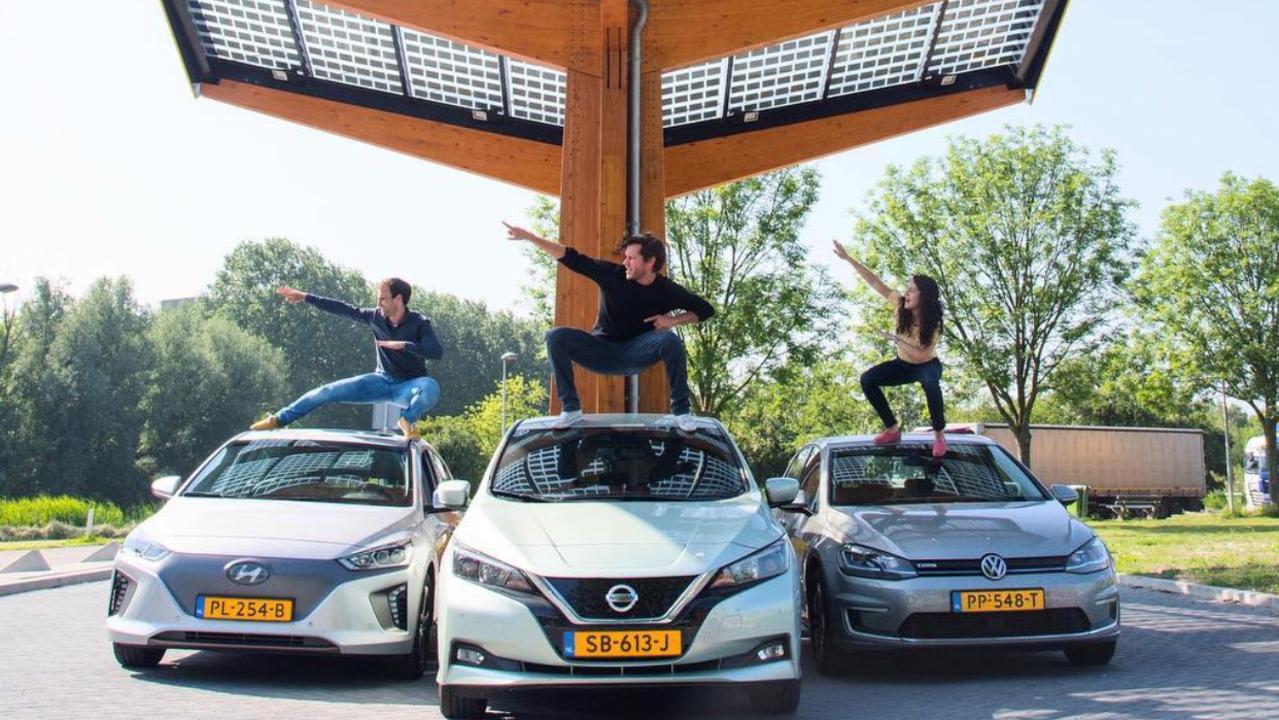 With global electric vehicle sales booming by 140 per cent, year on year, in the first quarter of 2021, it's easy to see why car companies and EV campaigners around the world are calling for investments in infrastructure to make sure there will be enough public charging options to meet demand.
The Australian Federal Government has yet to put any incentives in place to encourage the take-up of EVs, but it has pledged $250m towards boosting charging infrastructure as part of the Future Fuels Fund, which, when combined with private investment, should lead to the rolling out of 1000 public-charging stations across the country.
There has also been mention of providing home chargers for 50,000 households, but there has been no detail yet on how that will work.
At present, there are also no subsidies offered in Australia in regards to private, at-home EV chargers, unlike other countries such as Germany, where EV owners are given a €900 ($AU1445) incentive from German state-owned development bank KfW-Bank for the purchase and installation of an EV charger.
Installing a wallbox to charge your EV at home in Australia can cost between $1000 and $2500, but Audi is offering a free Jet Charge wallbox, including installation, to anyone who buys one of its $136,472 e-tron SUVs.
Germany, which aims to have one million public EV chargers available by 2030, also offers other incentives in various regions and cities, like covering up to 75 per cent of the costs for EV infrastructure installed by small-to-medium-sized businesses in some areas. Munich residents are offered a subsidy covering up to 40 per cent of the cost of installing a home charger (this can add up to as much as €10,000/$AU16,000 for a fast-charging unit).
France, which recently announced a €100m ($AU160m) funding programme to support the installation of fast-charging stations throughout the country, has 20 per cent of all the EV chargers in Europe, and offers a tax credit of up to €300 ($AU480) on the installation of an EV charger at a person's main residence.
Both private car parks and condominiums receive a subsidy of up to 50 per cent to cover the cost of charger installation.
The Netherlands, which is aiming to stop the sale of new cars other than EVs by 2030, has the highest concentration of public EV chargers in Europe, as well as the highest ratio of public charging points per 100km of road on the planet.
Around 190,000 Dutch people have an EV charger at home but citizens in most regions can request a public-charging station be installed for free near their work or place of residence (indeed, in Dutch cities, every EV owner has the right to have a public charger no more than 200 metres from their home). The only cost to owners is the electricity used to charge the EV.
One in five new cars bought in the Netherlands are already electric, but in Norway, which has the highest number of EVs per capita in the world, that figure is above 70 per cent.
Norway is often cited as the gold standard in terms of introducing tax cuts and subsidies to encourage EV uptake by the public, but it offers no such incentives when it comes to EV chargers.
Instead, the Norwegian government has focused on public funding for fast-charging stations every 50km on main roads, as well as allocating funds to housing associations for installing chargers, and replacing petrol pumps with EV chargers at a number of service stations (as you'd expect, free chargers are also available at every IKEA store in the country).
The European Parliament passed a law in 2018 stating that all new and renovated residential buildings with more than 10 parking spaces needed to be equipped with pre-wiring for a charging point in each parking space (commercial buildings require pre-wiring for at least 20 per cent of spaces).
In the US, EV drivers nationwide have access to a tax credit that covers 30 per cent of the purchase cost and installation of an EV charger, up to an amount of $US1000 ($AU1360).
There are also additional incentives and rebate programs for residential EV chargers in different US regions, which, on average, amount to around $US500 ($AU680), although some of these have certain equipment requirements.
There are around 42,000 public EV chargers in the US, with eco-friendly supermarket chain Whole Foods Market and restaurants such as Ruby Tuesday and burger chain Carl's Jr. offering chargers for EV drivers to top-up while shopping or eating.
Sweden has followed, with McDonald's restaurants boasting 55 public chargers.
The UK arm of the fast-food chain is currently planning to follow suit, as are KFC and Costa Coffee in Britain, with the latter announcing plans to install rapid EV chargers at around 200 of its locations.
Foreshadowing a time in the not-too distant future when petrol pumps could become as quaint as public telephone booths, Ampol Australia has announced plans to install EV fast chargers at 121 petrol stations across Sydney, Melbourne, Brisbane and Perth, with the company saying it expects EVs to "gradually displace internal-combustion engines," a particularly portentous statement from one of Australia's biggest suppliers of fossil fuels.


Read More: Global incentives to get electric car revolution up and running