According to some people in suits in Glasgow, electrifying transport options can be one of the fastest ways for cities to clean the air and eliminate noise pollution.
Electric trams, trains, buses and taxis aside, does opting for an electrified vehicle as personal transport make all that much financial sense?
Hyundai makes one model, the Ioniq, with three versions of electrification – hybrid, plug-in hybrid and full electric – which boast low/no fuel consumption and carbon-dioxide emissions.
Read more about the Hyundai Ioniq
Just pick the one that suits your needs best – full EV for city and suburbs, plug-in hybrid electric vehicle (PHEV) for longer urban journeys and hybrid for city and some country trips.
But which is best? Which will be the most economical to own and which uses the least amount of fuel?
Ioniq Hybrid – from $41,390 before on-road costs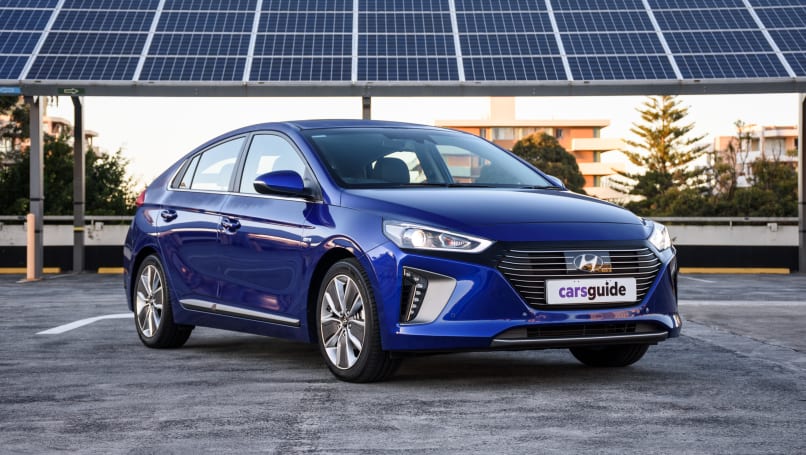 The Hybrid has a 1.6-litre petrol engine working with an electric motor that both drive the front wheels through a six-speed dual-clutch automatic transmission.
It rivals the Toyota Prius, but has higher outputs (104kW/265Nm) and a sportier transmission.
The Ioniq Hybrid aims to offer the best of both worlds with the electric motor employed for small distances to complement the added power and range of the petrol engine when out of town or freeway driving.
The Hybrid has a small battery to store energy recuperated from the regeneration effects of braking or coasting. In these situations, the unpowered rolling front wheels trigger onboard electronics to switch the electric motor to act as a generator.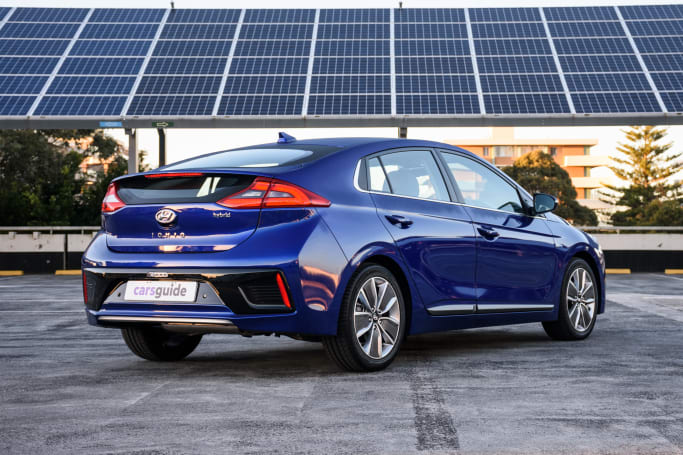 It has a relatively small 1.56 kWh battery onboard, enough for the petrol engine to be automatically shut down and the car operating on the electric motor. Typically, it will cut the petrol engine at traffic lights, when coasting, braking and other situations when the engine isn't needed.
It won't operate solely on electric for any range other than a few metres, so if you want EV range, move to the PHEV.
Fuel economy (claimed) is 3.4 litres per 100km (when fitted with 15-inch wheels) or 3.9L/100km (17-inch wheels) – two figures that clearly show the drag effects of bigger and wider wheels.
At 3.4L/100km, it will cost 4.8c/km to run the Hybrid ($1.40/litre 91RON petrol). At 12,000km a year, the fuel cost is $576.
Ioniq PHEV – from $47,950 before on-road costs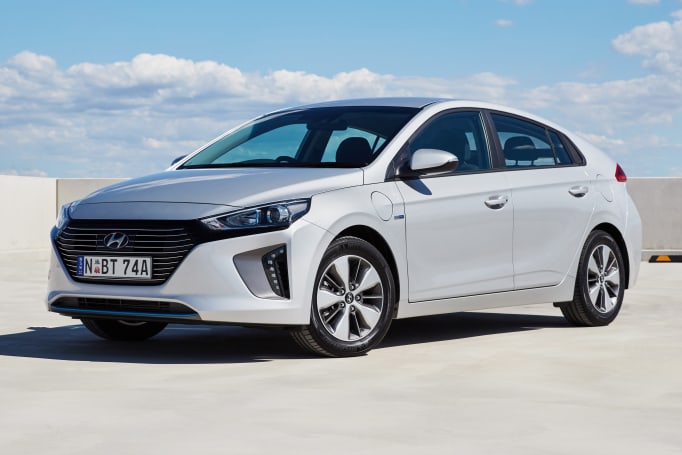 The PHEV (plug-in hybrid electric vehicle) is the procrastinator's delight. It has all the best characteristics of a petrol and an electric car, notably the ability to drive under its own battery for up to 63km.
You could seriously consider this as a petrol-free commuter if your daily commute was less than, say, 60km return.
The drivetrain is the same as the Hybrid – and same 104kW/265Nm output – but the battery is bigger at 8.9kWh and Hyundai claim a petrol average of 1.1L/100km. Of course, don't entice the engine into operation and it's a zero cost for petrol.
That bigger battery eats into some cargo space, but it's still on par with rivals at 357 litres (rear seats up) to 1417L. The Hybrid is still bigger at 456-1518L.
Charge up the PHEV each day and it will cost about $1.80 (based on 20 cents per kWh) from home and 40c/kWh from a fast charger. That's 2.9 cents a kilometre (home) and 5.8c/km (external). At 12,000km a year, that's $348 (home) and $696 a year (external).
Charge at home and if you consider an annual drive of 40 per cent EV operation and 60 per cent petrol, the PHEV will cost about $139 (4800km) and $343 (7200km) at $1.40/litre 91RON petrol – totally $482.
But home charging will incur extra costs. The electricity provider adds service costs and a home charger can cost $1500.
For the purpose of this comparison, we'll assume external charging at 40c per kWh. So, for a 40/60 mix of EV and petrol, the Ioniq PHEV will cost $621 a year for the 12,000km or 5.2c/km.
Ioniq Electric – from $49,970 before on-road costs
Hyundai offers two Electrics – the Elite at $49,970 and the Premium at $54,010, with the latter adding features including leather upholstery, sunroof, wireless mobile phone charging and LED headlights. This article is based on the Elite.
The Electric has a single 101kW/295Nm electric motor driving the front wheels directly through a reduction gear. It's as simple as that.
The battery is a 38.3 kWh lithium-ion unit that's rated with a 311km range. Hyundai offers an eight year or 160,000km warranty on the battery.
EV charge company JET Charge quote a 7.2kW home charger will charge the Ioniq at the rate of 45km per hour, while a 50kW charger will offer up a full charge in just 45 minutes.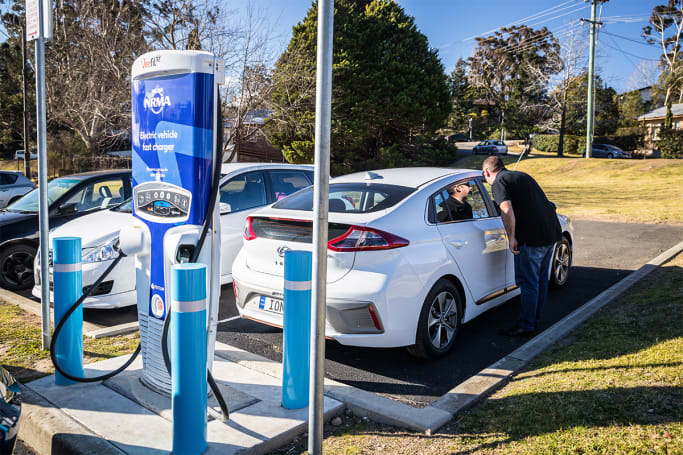 Home charging at 20c/kWh will cost $7.70 in Victoria and Queensland, and slightly higher in NSW. That's equivalent to 2.5 cents per kilometre. At 12,000km a year, that's $300 a year.
But note the extra charges that were mentioned in the PHEV article above. These include annual fees and service charges from the electricity provider adds service costs and the added cost of a home charger at about $1500.
We will assume an EV buyer is more likely to use a home or office charger and for fast charges, an external provider. Based on using a fast charger at 40c/kWh, the Electric will cost $15.30 to charge for its 311km claimed range, which is 4.9c/km.
Ownership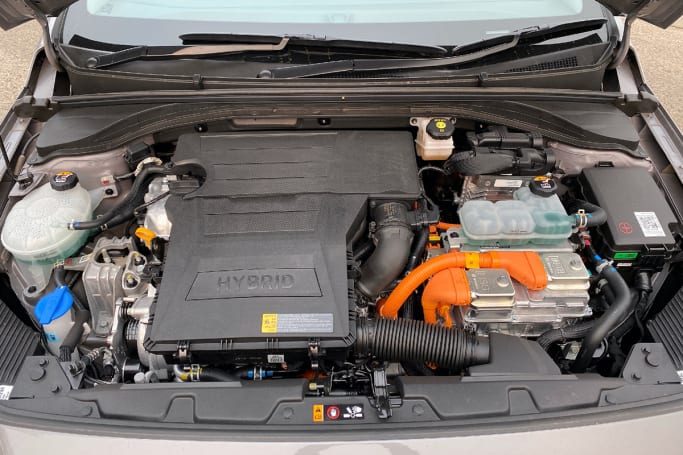 The price tag will always be the first stumbling block and with almost $8600 separating the Hybrid from the Electric, there's indications that the cheaper model will lure more buyers. But with a step up of $6560 from the Hybrid to the PHEV, picking the middle child may have advantages.
To summarise on the cost per kilometre of each: Hybrid is 4.8 cents, PHEV is 5.2c (using external charge providers) and Electric is 4.9c (also assuming external charger).
So not much in it.
There is also the possibility – depending in which state or territory you live – that subsidies and other incentives may come your way via the government. If so, it's the icing on this cake.
Hyundai has a five-year/unlimited distance warranty. It also has a five-year roadside assistance program, so buyers are well catered for.
Capped price servicing applies to the three Ioniq models at:
Ioniq Hybrid – $265 for each year except year 4 at $465. Total is $1525 for five years ($795 for three years).
Ioniq PHEV – $265 for each year except year 4 at $465. Total is $1525 for five years ($795 for three years).
Ioniq Electric – $160 for each year except year 4 at $760. Total is $1400 ($480 for three years).
Adding servicing costs with fuel/electricity bills, here is the breakdown over three years:
| | |
| --- | --- |
| Model | Cost |
| Hybrid | $2523 |
| PHEV | $2658 |
| Electric | $1380 |
So, the cheapest version to own over three years is clearly the Electric.
No surprise that Hyundai Motor Company of Australia confirmed the Electric is by far and away the most popular Ioniq then.
The Electric should also continue its cheap-to-own badge through its life, but while servicing and component replacement will be significantly less than the models with a conventional engine, the Electric will still need a new battery at about 10 years (unknown cost but estimated in 10 years' time at $3000).
But what about the purchase price? The Hybrid is $6560 cheaper than the PHEV – enough to fuel and service the Hybrid for seven and a half years.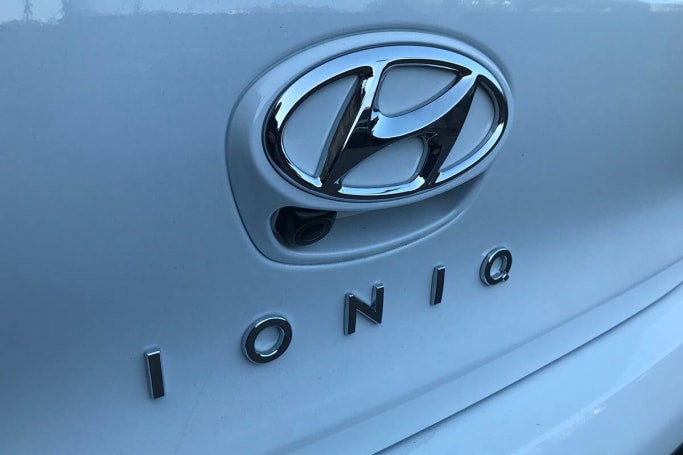 The Hybrid is also $8580 cheaper than the Electric – enough for almost 10 years of driving.
Although that difference seems steep, there are ways to trim it back. There is enough flexibility in the price of home charging to make the PHEV – and the Electric – cheaper to own.
Consider a home charger rather than using external chargers – that saves half the cost of juicing up.
Also consider rooftop photovoltaic (PV) panels and a storage battery. These are expensive outlays but cheaper over time. PVs don't, unfortunately, work at night and clash with the car being used during the day, hence the storage batteries.
You could take into account all the fees and service costs of the energy provider in consideration, including a tariff of $1.05 a day ($383 a year), but as a home owner, you're on the grid anyway.
So, does it pay to go all electric yet? The Ioniq Electric makes sense and saves cents. It will cost you $1380 in servicing for the first three years and a mere $300 each year to charge up, and with the possibility of discounts for owning an EV (dependent on state or territory regulations), there is a strong case to be made for going all electric now.


Read More: Does it pay to go hybrid, plug-in hybrid or full electric? Prices and running costs