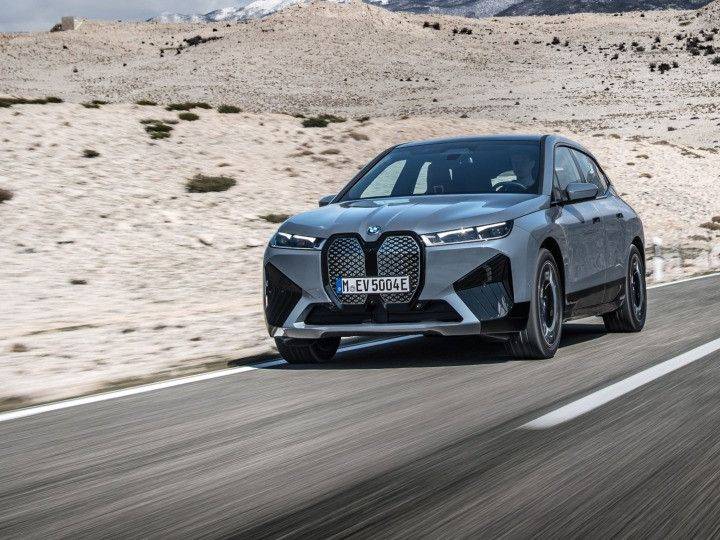 BMW iX Electric SUV launches in mid-December

Prices are expected to be between Rs 1 crore and 1.5 crore for the SUV 

Bookings are currently open for Mini Cooper SE  
BMW will launch three electric vehicles (EVs) in India over the next six months — the iX SUV, Mini Cooper SE hatchback, and i4 sedan. In an interview, BMW Group India President Vikram Pahwa said that without a demand for advanced technologies, localisation is impractical. He suggests subsidies on custom duties for three to five years, to create a demand for modern EVs in India.

The iX SUV will be the first of the three models to make it to India in mid-December 2021. It's a proper family hauler, about the same size as an MG Gloster SUV, except faster. The BMW iX XDrive50 variant packs 530PS and 765Nm, enough to get from 0-100kmph in 4.6 seconds! Even the lower-spec iX XDrive40 has dual-motor all-wheel-drive, and a peak output of 330PS/630Nm. It scoots to 100kmph in just 6.1 seconds. 

Gigantic 71kWh and 105kWh batteries will keep you going for 425km in the iX XDrive40 variant, and a whopping 630km in the top-spec SUV (WLTP-calculated figures). In India, the BMW iX is going to rival the Mercedes-Benz EQC, Audi e-tron and the Jaguar I-Pace electric SUVs. Without any relief in custom duties on the horizon, it could have a similarly lofty price as the Merc and Audi, of around Rs 1 crore (ex-showroom). 
Also read: New BMW iDrive 8 Infotainment System Revealed; Will Debut In The iX Electric SUV
The Mini Cooper SE will enter a currently unpopulated market niche in India — electric hatchbacks. It's likely to be relatively more affordable than the Bimmer SUV, and ex-showroom prices are expected to start at around Rs 50 lakh. It has a 233km claimed range and a 184PS electric motor that's good for a hot-hatch-worthy 0-100kmph time of 7.3 seconds. 

The i4 electric sedan is expected to be offered in the two variants that are available globally — eDrive40 and M50. You'll get a 344PS and generous 590km range from the eDrive40 variant. The M50 variant is a proper sports sedan with 551PS that's good for a 0-100kmph time of 3.9 seconds! Both variants will draw energy from an 83.9kWh battery, so the more powerful variant has a slightly lower claimed range of 510km. The i4 is capable of 200kW of DC fast charging, so juicing up the battery from 10 to 80 percent takes just around half an hour! 

The i4 sedan is priced between Rs 52 lakh and Rs 64 lakh in the UK, so it is likely to be similarly expensive as the iX SUV in India. Customs fees and import duties significantly drive up the price of globally available EVs in India, pricing them out of reach for a majority of new car buyers. 

Easing restrictions on EV imports is likely to reduce the buying price of these vehicles. In the long run, a combination of subsidies and incentives, affordable local and global models, and rapid expansion of EV charging networks is essential to accelerate electric car adoption in India.


Read More: BMW To Launch iX EV, Mini Cooper SE Hatchback, And i4 Electric Sedan In India Over Next